Posted under:
General
Posted on: October 5, 2020
Are Dental Implants Right for You?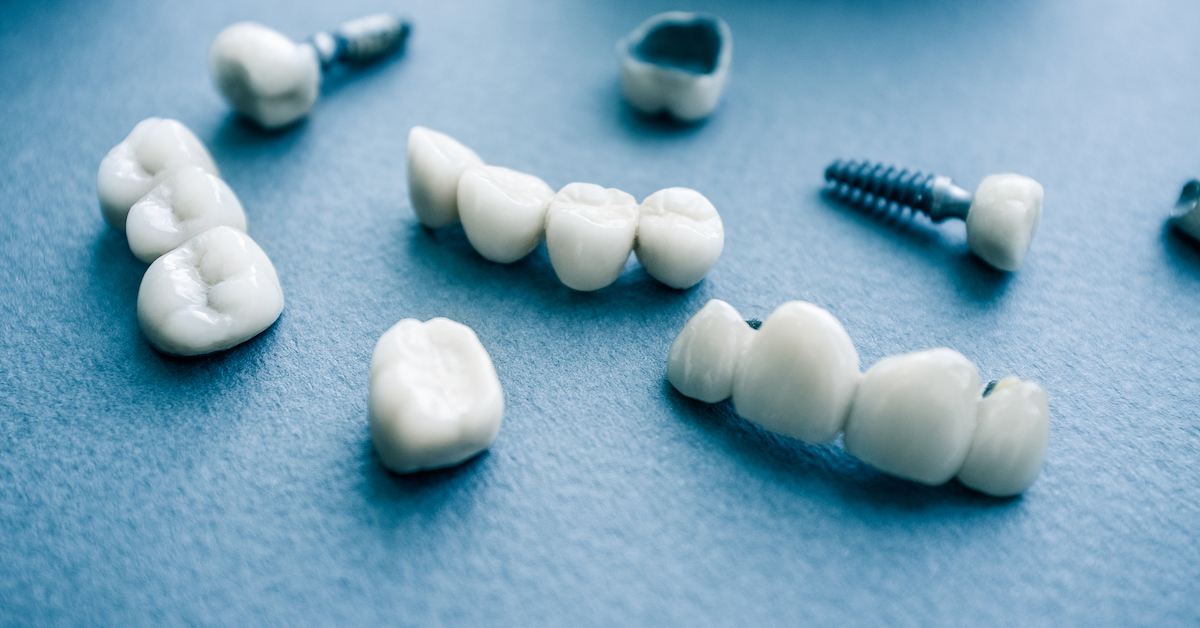 Millions of Americans are missing at least one tooth, mostly because of decay and gum disease. Years ago, there were only two options for people who wanted to replace their missing tooth; a partial denture and or a dental bridge. Today, if you're missing a tooth, you can replace it with a dental implant. Three million Americans already have dental implants, according to the American Academy of Implant Dentistry, with half a million more discovering their benefits each year.
What Are Dental Implants?
Dental implants are devices designed to replace missing teeth with the same look and feel as natural teeth. They may be especially useful for individuals that want to avoid the problems often associated with less natural-looking and secure devices like traditional dentures and bridges.
Dental implants are comprised of three separate parts, although most people use the term to describe the crown visible in the mouth. Dental implants are made of the post or screw that goes into the jawbone to act as a tooth root. The rest of an implant consists of a connector, often called the abutment, and the crown, which is what people tend to call an implant as it is the visible part of a dental implant.
How Does a Dental Implant Work?
A dental implant works the same way as a natural tooth. The implant is an artificial root, and the crown is an artificial tooth. When you chew, it will feel the same as any of your other teeth. No one should be able to tell the implant isn't one of your natural teeth. You may even forget you have an implant because it is so much like your other teeth. Implants can also support bridges or dentures if you've lost multiple teeth.
What Is a Bone Graft Procedure and When Is it Necessary?
During your initial consultation, your dentist may tell you that you need a bone graft before getting an implant. This is a fairly normal occurrence, as bone loss is common after losing a tooth and not replacing it promptly. A bone graft may sound scary, but it isn't nearly as bad as it sounds. As long as you only need a minor surgery, you should only feel minor discomfort afterward, similar to what you would feel after having a tooth pulled. However, some people do require more extensive grafting procedures, which may cause additional discomfort or longer healing times.
Your dentist will either use your own bone or an artificial bone material to build up an area to place the implant. This will delay your surgery by at least three months, but it's necessary to hold the implant securely.
What Should I Expect from Dental Implant Surgery?
Everyone heals at a different rate, so you can expect the process to take anywhere from a few months to up to many months. You may have options for a temporary tooth to wear in the meantime. Teh process generally includes the following steps:
Removing the tooth that has been damaged if it's still in the mouth
Performing grafting if necessary
Installing the implant into the jawbone
Healing of the jawbone around the implant
Placing the abutment
Placing the crown
Placing the implant
Your dentist or oral surgeon will make a small cut in your gum to expose the bone. He or she will then drill a hole in the bone to place the implant. At this point, you will have to wait for the bone to grow around the implant in order for it to hold securely. This is known as osseointegration and it make take several months.
Putting on the Abutment
During this phase of the treatment, you will return to have your abutment placed. Your dentist will cut the gum once again to screw the abutment, or connector, onto the top of the implant. Over the next few weeks, your gum will heal around the abutment. Once this occurs, you're ready to get your crown. This will take about two weeks. Before cutting your gum, your dentist will make a mold of your teeth for the dental lab so they can create a crown that matches your other teeth.
Getting Your Crown
A crown is the piece of the implant that attaches to the abutment and looks like a natural gum and tooth. Generally, there are two types of crowns: removable and permanent. Removable ones can be removed for cleaning and repairs, but remain stable. When your custom crown is ready, your dentist will permanently attach it to the abutment, if you have chosen a permanent crown.
What Is it Like After Having Dental Implant Surgery?
You may experience minor discomfort, bleeding and bruising after each stage, except for placing the crown. It is no worse than how you would feel after any other dental surgery. Your dentist will give you aftercare instruction to ease the discomfort and keep the site clean. Smoking will hinder your recovery; if you smoke, your dentist will urge you to quit.
What Are the Advantages and Disadvantages of Getting Dental Implants?
If you're feeling overwhelmed with tooth replacement options, it pays to go over the advantages and disadvantages of each one. Many of our patients who qualify for implants feel the advantages far outweigh the disadvantages. The pros and cons of dental implants are listed below.
Advantages
Permanence: Implants are a long-term solution, unlike traditional dental bridges or dentures, which may only last between five and 15 years.
Improved Oral Health and Speech: Implants keep your jawbone intact and help prevent bone loss that can change the shape of your face. Since dental implants are designed to fit and act like natural teeth, your speech should be improved.
Low Maintenance: You brush and floss around the implant, treating it as you would your other teeth. The only other thing you must do is keep your regularly scheduled dental exams.
You Can Eat Normal Foods: You never have to worry about eating corn-on-the-cob or any other food off limits for those with dentures.
Keep Healthy Teeth Intact: Your dentist won't have to alter healthy teeth on either side of the implant like he or she would if you replace your missing tooth using a bridge. You'll also be able to keep them clean more easily.
Disadvantages
Initial Cost: Dental Implants initially cost more than other tooth replacement options, but they last longer and are a better overall value.
Insurance Rarely Pays for Implants: It's unlikely your insurance company will pay for implants, although more insurance companies are seeing their long-term value. Dentists can usually suggest financing options so you can spread the cost out over several months.
Everyone Does Not Qualify: There are patients who are unsuitable for dental implants because of certain medical conditions that would make surgery inadvisable.
Where Can I Learn If I am a Good Candidate for Implants?
Implants dentists have special training and extensive experience with dental implants. These experts are the best professionals available to help you determine if you have sufficient bone to support an implant and are a good candidate for the procedure.
We are passionate about helping you achieve the confidence needed to smile again without worrying about missing teeth. Book your consultation online or call us.