Endodontist

Dr. Anguita is an acknowledged expert in the field of endodontics; his research has appeared in the pages of such prominent publications as the Journal of Endodontics, the Journal of Dental Research and the American Journal of Physiology. A Diplomate of the American Board of Endodontics, he is also an active member of the American Dental Association and the American Association of Endodontists.
Oral Surgeon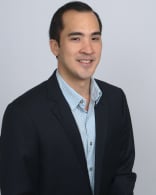 Dr. Hew achieved the Chief Resident Certificate and the Professor's Cup for the best overall resident and completed a Head and Neck Surgery Fellowship and Microvascular Fellowship there, as well Specializing in Oral Maxillofacial Surgery, Dr. Hew provides dental extractions, placement of dental implants, dentoalveolar surgery, bone grafting and more.
Periodontist

Dr. Ribeiro's education includes a masters degree in oral biology with research in dental implants. After receiving his dental degree and passing the National Board Dental Examinations, Dr. Ribeiro was accepted into the Advanced Education in General Dentistry residency program at Nova Southeastern University's College of Dental Medicine. He then spent four years studying periodontics and periodontal prosthesis at one of the top dental schools in the country, the University of Pennsylvania School of Dental Medicine in Philadelphia.
Oral Surgeon Over the past 12 years, Dr. Sáenz has used her formidable surgical skills to save many a smile. Fluent in Spanish as well as English, she walks her patients step by step through even the most complicated procedures, taking care to answer any questions they may have. A native of New Orleans, Dr. Sáenz attended the University of New Orleans before earning her Doctor of Dental Surgery from Meharry Medical College School of Dentistry in Memphis, Tennessee, where she received numerous awards for academic excellence.
Joseph Ryan Grider, DDS
Oral Surgeon