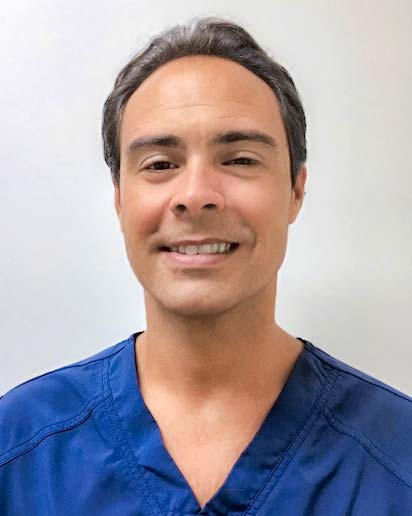 It's no wonder that Dr. Juan Mendoza has a big passion for oral health, as he comes from a long lineage of dentists. His great grandfather, grandfather, father, wife, sister, and aunt are all dental professionals. He is a highly-skilled Periodontist known for his friendly demeanor and professional approach to dentistry. Dr. Mendoza educates and collaborates with each of his patients on their periodontal and implant care in order to make informed decisions together. Fluent in both English and Spanish, he is able to accommodate a wide variety of patients.
Dr. Mendoza received his Doctorate of Dental Medicine degree from the Universidad de Puerto Rico School of Dentistry and his Periodontics Specialty degree from the University of Louisville. Currently, he is a member of the American Academy of Periodontology and the American Academy of Osseointegration.
Before specializing in Periodontics, Dr. Mendoza practiced as a general dentist for 4 years, giving him great experience in restorative dentistry. As a Periodontist, he focuses on gum and bone surgery, treating gum disease and placing dental implants.
When he's not treating patients, Dr. Mendoza enjoys spending time with his family, which includes his son and daughter. He also loves to relax at the beach and hopes to one day retire and live on a boat.
I'm all about saving teeth. I will go above and beyond to meet your expectations when it comes to the prevention, diagnosis and treatment of gum diseases!